Events
Thursday, March 2, 2017
4:30 p.m.
Mark Bathe, MIT
Programming and Probing Biomolecular Machines
Location: Mellon Institute Conference Room
Host: Bruce Armitage
Thursday, March 9, 2017
4:30 p.m.
Amanda C. Bryant-Friedrich, University of Toledo
Location: Mellon Institute Conference Room
Host: Catalina Achim
News & Announcements
Atmospheric Chemist Neil Donahue Wins Esselen Award for Chemistry in the Public Interest
The Esselen Award is one of the American Chemical Society's Northeastern Section's Most Prestigious Awards
Chemist Yisong Guo Receives NSF Career Award
Carnegie Mellon University chemist Yisong Guo has received a Faculty Early Career Development award from the National Science Foundation. Guo, an assistant professor of chemistry, received the five-year grant to study three newly discovered non-heme mononuclear iron-containing (NHM-Fe) enzymes. These enzymes are known to play a role in a number of processes that impact health and aging.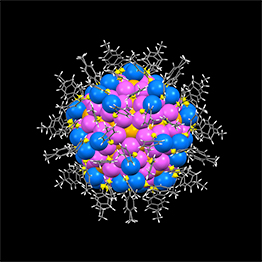 Synthetic Nanoparticles Achieve the Complexity of Protein Molecules
Rongchao Jin and chemists at Carnegie Mellon University have demonstrated that synthetic nanoparticles can achieve the same level of structural complexity, hierarchy and accuracy as their natural counterparts — biomolecules. The study, published in Science, also reveals the atomic-level mechanisms behind nanoparticle self-assembly.