Events
Thursday, July 21, 2016
12:30 p.m.
Graduate Student Summer Seminars
Chia-Hua Tsai
Sequence-Controlled Periodic Conjugated Polymers Based on Group 16 Heterocycles
Steph Mack
Synthesis of backbone branched RNA and the biochemical investigation of lariat debranching
Location: Mellon Institute Conference Room
News & Announcements
Clouds Provide Clue to Better Climate Predictions
A research group from the CERN Cloud experiment, including Chemistry Professor Neil Donahue, have uncovered the processes behind the formation and evolution of small atmospheric particles free from the influence of pollution. The findings are key to creating accurate models to understand and predict global climate change.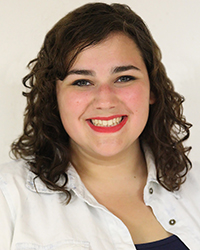 Chemistry and Creative Writing Major Sophie Rose Zucker To Speak at Carnegie Mellon Commencement, May 15
Graduates Urged To Put Their Hearts Into Their Work (Carnegie Mellon story, May 15, 2016)
Carnegie Mellon Awarded $10M for Center for Air, Climate and Energy Solutions to improve health outcomes
Neil Donahue and Ryan Sullivan are among the new center's faculty.